The space race was an incredible thing. It almost makes me regret being born in the 80's, because I am enamored by space exploration but the space race had pretty much wound down by the time I was old enough to appreciate it. Of course private space exploration is doing some amazing stuff, and I do believe that interest in space is set to skyrocket (pun intended) in the coming years and decades. But right now I still have to look to history & science fiction for the really juicy, dramatic stuff - like putting actual people into space when we're not really sure what the results could be.
Which brings me to Project Mercury. The space race is full of amazing accomplishments and milestones, but I feel like Project Mercury was the true make-or-break moment for humanity in space. It was the first time that we put
people
into
space
. Humans had never done that before. We knew we could get people out there into space - but would they survive? And could we bring them back alive and well?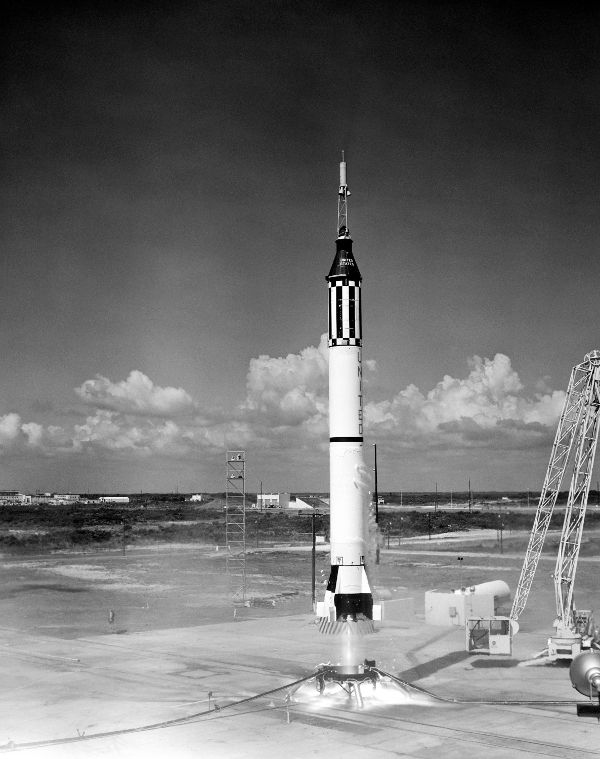 Astronaught Alan Shepard lifts off in the Freedom 7 Mercury Mission
To find out, the first manned spacecraft - the Mercury Capsule - was created. It was designed to carry just a single astronaught into space. The agency worked quickly, and in May of 1961 they realized an age old dream of makind when Alan Shepard became the first person in space.
The magnitude of this accomplishment cannot be overstated. We had proven that a person could be taken into space and brought back safely. This was kind of a big deal, because it means that all of our grand dreams of colonizing the universe at large can actually be realized! At least to some degree - the universe is a pretty big place, after all. NASA flew 5 more Mercury missions, and the knowledge and experienced gained from these missions paved the way for all modern space activity.
I am blown away by the dedication and tenacity of the team who made this possible, and the courage it took for those first 6 people to fly into space with none of the experience we have today. It could have turned out that humans simply can't survive in space. Or it could have just gone so wrong that the human appetite for space exploration would be permanently soured. I think that's why these missions loom so large in my mind - the sheer uncertainty of it all, and the magnitude of what the results would mean for the future of mankind.
I'm still waiting for the world to become as excited about space as it must have been back then. But we're still doing lots of great things in the meantim. The Cassini probe just finished it's 19 years in space with a spectacular dive into Saturn, the Voyager 1 probe left our solar system just a few short years ago, and the Curiosity probe is still chugging along on Mars. And we're just getting started!
The seven Mercury astronauts were (from left) Wally Schirra, Alan Shepard, Deke Slayton, Gus Grissom, John Glenn, Gordon Cooper and Scott Carpenter.